I've got it! Let's put these everywhere, then we will AAALLLL be SAFE!
Signs, signs, everywhere there's signs.
Blocking out the scenery. Breaking my mind.
Do this! Don't do that! Can't you read the signs?
A little something to offend everyone…
— Mead
Reserve your 9″ x 12″ yard sign
Protect yourself from indoor or outdoor terrorists today!
Cost: $20.00 US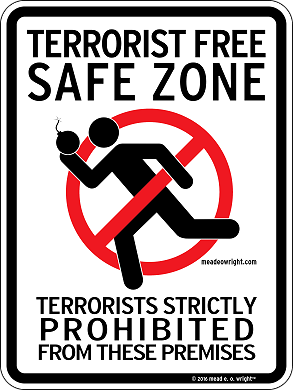 CONUS Shipping is included, discounts available for multiple signs.
This foolproof sign is made of durable corrugated plastic that easily installs over wire ground stakes, fits within framed signs, or look great hung on your wall.
Installation: The sign can be easily installed using standard wire ground stakes. Just slide the yard signs onto the stakes through the corrugated flutes. You can also attach the sign to any surface using washers and screws, prop it on a shelf or hang it in a window.
Care & Cleaning: The signs are durable, and perfect for outdoor use, and can be cleaned with warm water and a mild liquid soap.
All proceeds will be use to maintain this site and podcast in Mead's memory…